FERRARI ADELAIDE 400 - Tribute to the 1962 330TRLM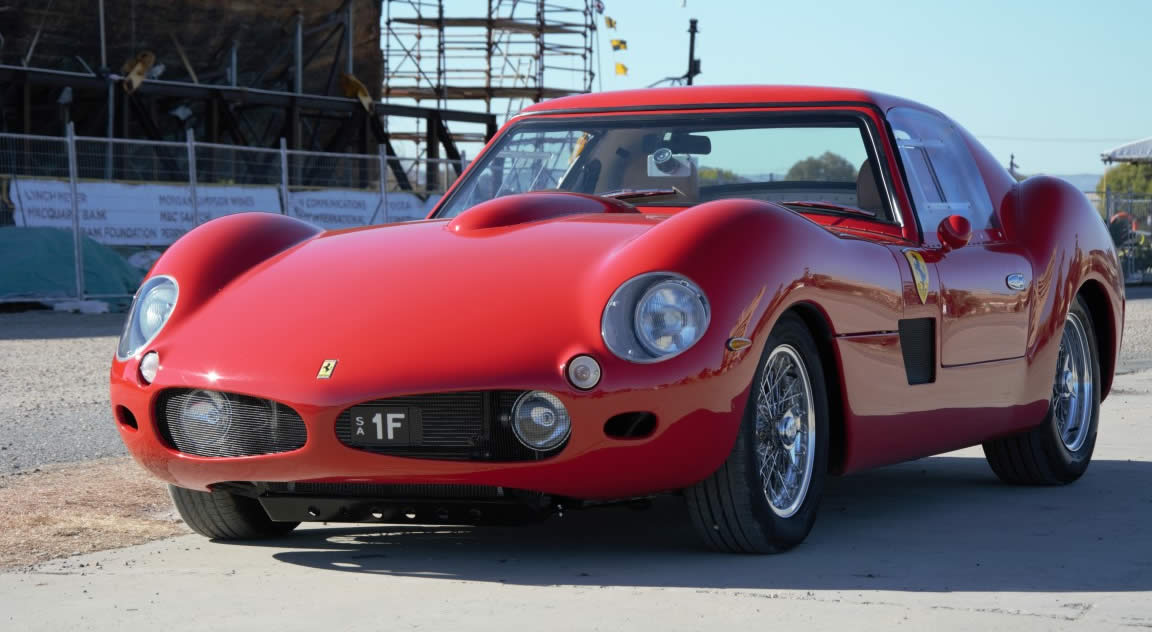 The Ferrari Adelaide 400 (CHASSIS NO. 24339) is a tribute to the amazing 0808 chassis vehicle that had many bodies fitted in its racing career from 1960 to 1963. The original chassis 0808 was rebodied five times for the most part by Carrozzeria Fantuzzi in Milan.

A conversation between Dean Rainsford and Gerard Miller – proprietor of Marque Restoration was the beginning. Dean promptly purchased a RHD Ferrari 400 donor car in the USA and shipped it home to Adelaide. He and helpers removed the body and stripped the chassis to a point where Alex Bennett could shorten and stiffen the chassis to specification.

The rolling chassis was delivered to Marque Restoration. The body and framing was drawn 10:1 scale by Gerard in pencil on paper using photos and original specifications as a guide The 'B' pillar and top were raised and a roll bar incorporated there and in the windscreen frame. A removable roof was added, similar in form to the Fantuzzi body of 1966 on chassis 0808.

With Gerard's guidance, the staff BUILT this beautiful work of art. Everyone played a big part in the build.


The body framing roll bars were fabricated in steel tube then the 1.6mm aluminium skin carefully formed and fitted in the "Superleggera" method. The drivetrain of 4.8L V12 Ferrari was coupled to a 2002 Ferrari 6 speed transaxle and then to the rear wheels via the original drive shafts.

Once done, the vehicle was stripped clean, prepped and components painted with special care in our paint shop.

While painting of the body was being undertaken, the details were completed on the chassis and the huge task of assembly to our highest standard was underway.

A joy to drive and an artwork on wheels. It will lift the observer and driver for many years into the future. A privilege for the staff to build.

Our thanks to Dean for making this possible.